News
Annual Meeting of the Climate Coalition in North Macedonia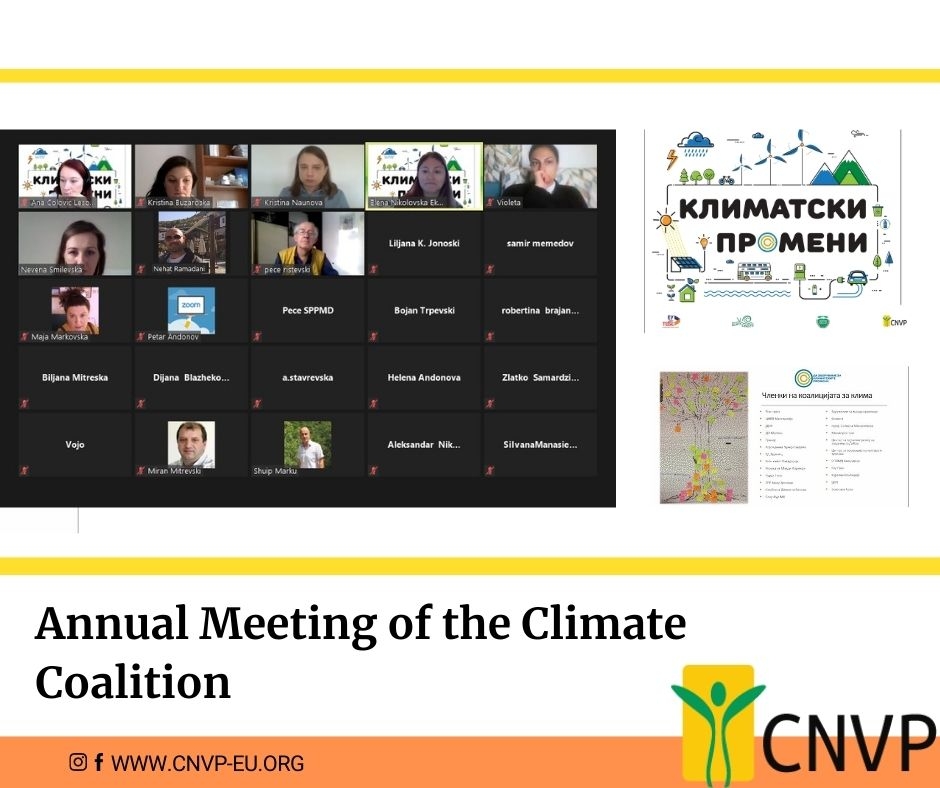 Within the framework of the EU project "Communities Communicating Climate Change" the annual meeting of the Climate Coalition took place on 2nd November 2020. Being one of the main project outputs, the Climate Coalition (CC) is officially established in June 2020, and consists of the main CSO active on environmental issues in North Macedonia.
Due to the current circumstances with Covid19, the annual meeting was organized online. The opening remarks were delivered by Ms. Ana Colivic Leshoska Director of Eko-svest and Mr. Nehat Ramadani, CNVP Country Director in NM. "The mission for environmental protection should be beyond a coalition, beyond a government, it should be rooted in each person. The climate protection can be achieved only if all stakeholders are acting jointly" emphasizes Mr, Ramadani in his addresses.
At the annual meeting, more than 30 CSO's participants discussed actively the strategic issues of the Climate Coalition. Participants with consensus approved the Coalition's Strategic Plan and the Annual Work Plan. Moreover, a Coalition's Secretariat was set up to coordinate the future activities deriving from the strategic documents. The secretariat will be focused primarily on issues such as: a) Public Relationships; b) internal communication; c) program implementation; d) training and education; and e) administrative and financial issues.
In addition, an interactive eco-map for reporting environmental issues was introduced to the participants. The eco-map is aiming protection of climate change and the environment in general. Participants were introduced to the technical functions of the eco-map and the way it will be promoted to the citizens for further usage.
The participants during the annual meeting discussed also the public climate policies, which took place in two working sessions with the following topics:
1. Decarburization of the relevant sectors in order to achieve the EU Green Deal goals;
2. Integrated National Energy and Climate Plan (INECP)
The project "Communities Communicating Climate Change (CCCC)" is financed by EU and implemented in North Macedonia in partnership by Eco-svest, CNVP Macedonia, and DEM.