News
Field Day in MAPs genetic resources garden in Koplik, Malesia e Madhe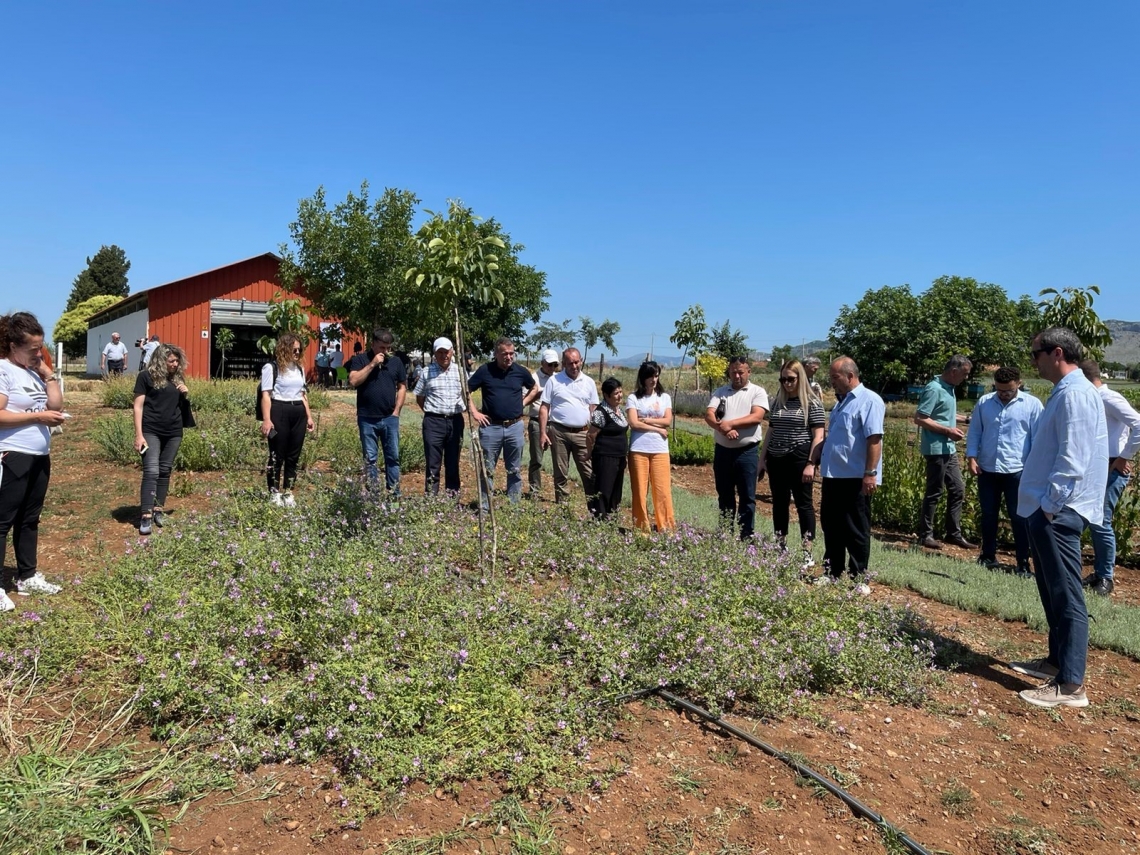 CNVP Albania supported the organization of a field day in the MAPs genetic resources garden which is established with the support of Sida-funded LED project at Salvia Nord nursery in Koplik, Malesia e Madhe.
The aim of this field day - organized on Wednesday - was to bring together MAPs stakeholder from Shkoder region as well as other areas and introduce them to the MAPs genetic resources garden, share information on the most important Medicinal and Aromatic Plants that grow best in the region, increase knowledge on proper cultivation practices for MAPs and exchange experiences on domestic and international market trends and demands for MAPs.
About 50 people who were representatives from Koplik and Berat municipalities, Agriculture Departments, Agriculture Technology Transfer Centre, MAP companies, Reci cooperative, MAP producers from Shkoder and Berat regions, EU and Vis Albania projects in Shkoder visited the garden, exchanged information and networked.
Agim and Servete Rama, owners of Salvia Nord nursery shared with the group their experience on the steps followed and support received to establish this garden by emphasising the importance and the benefit that this garden will have for the community. "In the past, people were using vegetative cuts of MAPs from the wild or buying low quality imported seeds to cultivate in their lands and getting very low quality and quantity of products. There is an increasing demand from the producers and companies for quality seedlings and accessing them locally is more beneficial", they said.
What is the MAPs genetic resources garden?
It is a "natural laboratory" where 30 most important autochthonous MAP varieties have been collected from the wild and are planted in a circle shape with different layers to allow plantation of several seedlings of the same type. The MAPs genetic resources garden will serve as a laboratory to experiment with and monitor the performance of high-quality MAPs seedlings. MAPs stakeholders (companies, producers, universities, government authorities, students etc) form Shkoder region as well as countrywide will have a place where they can see MAP varieties in different stages of their development from plantation, during their growth, harvest time and post-harvest depending on the time of the year that they visit.
The genetic resources garden and the nursery will serve:
To increase knowledge of local actors on what type of MAPs grow best in the region,
To make quality planting material more accessible to MAPs farmers in the local area,
To increase farmer knowledge on the good cultivation practices of MAPs,
To generate more incomes and employment in rural areas by cultivating the most market demanded MAPs