News
Webinar on prevention and fight against forest illegal activities and corruption in Serbia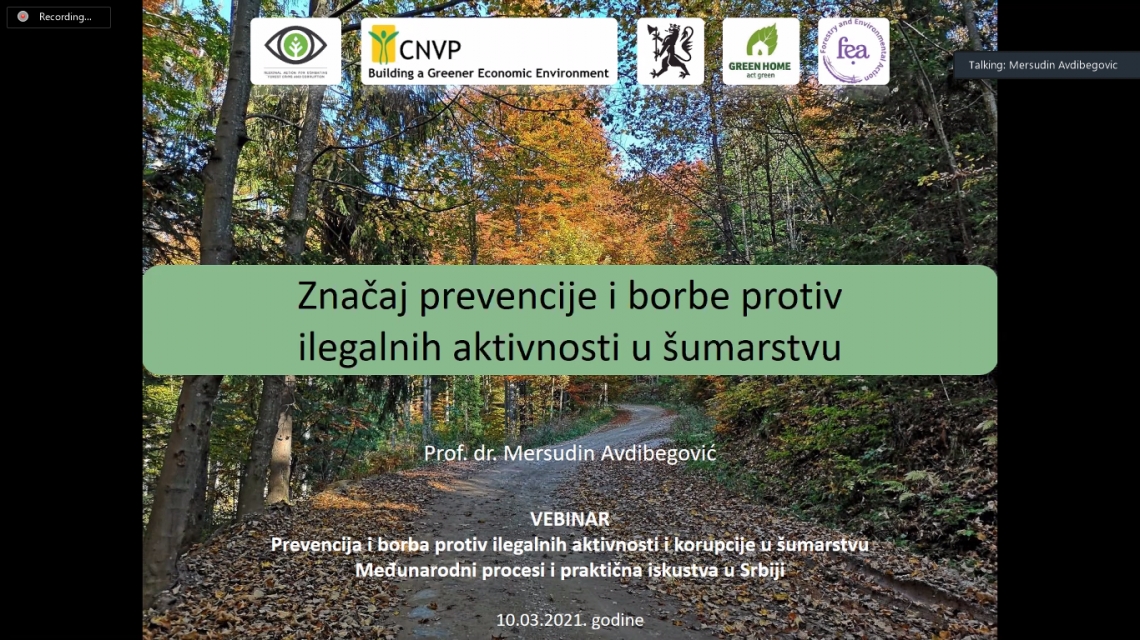 On 10 and 11 March 2021, a two-day webinar was held under the topic: "Prevention and fight against illegal activities and corruption in forestry - international processes and practical experiences in Serbia".
The two-day webinar was organized in order to strengthen the capacities and exchange experiences of the employees in the forestry sector (public administration and enterprise), as well as other stakeholders from the sectors of nature protection and environment, regarding the prevention and fight against corruption and illegal activities in forestry.
Around 30 participants from the public sector, academy, non-governmental organizations, and media, attended the webinar.
The presenters of the webinar were regional and local experts in the field of forestry and forest policy.
On the first day of the webinar, they introduced the participants to the international processes aimed at prevention and fight against corruption and illegal activities in forestry, such as forest certification and EUTR.
The second day was dedicated to practical and local experiences and modalities for dealing with this issue: experiences and challenges of the Directorate of Forests in combating forest illegal actions in Serbia, forest certification process in Serbia, PE "Vojvodinašume" experiences in the application of the information system for monitoring the production process in forestry and presentation of draft Action Plan for the Suppression of Illegal Activities in Forestry.
The webinar was organized in the frame of the project "Regional action for combating forest crime and corruption" funded by the Norwegian Ministry of Foreign Affairs and implemented by CNVP, Forestry and Environmental Action (FEA), Sarajevo, and Green Home, Podgorica.
The project aims at networking stakeholders in the forestry sector, increasing transparency, good governance, capacity development, and mechanisms for combating crime and corruption, as well as preparation/adoption of Action Plans for suppression of illegal activities in forestry.