News
Ambassador of Sweden visits CNVP/SUNREED project partners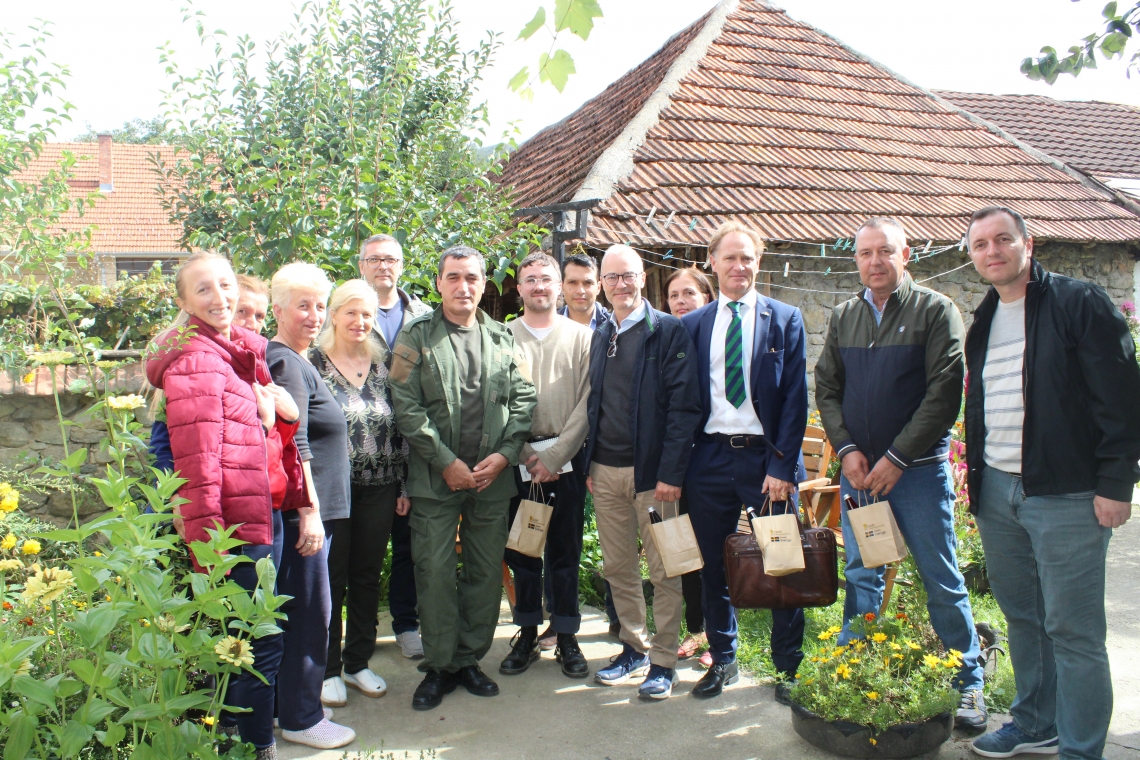 The Ambassador of Sweden in Kosovo, Jonas Westerlund visited the SUNREED project partners to get acquainted with the life of the communities living near the forests, the opportunities they have as well as challenges. The visit was organized by CNVP, which started this year to implement a five-year project "Sustainable use of Natural Resources for Environment and Economic Development (SUNREED)", funded by Embassy of Sweden in Prishtina.
Association of Private Forestry Owner (APFO) members from Strpce, with whom CNVP has worked for many years, informed the Ambassador Westerlund on the work that the APFO in Strpce is doing, along with the Women and Youth Producers Group (WYPG), in an effort to contribute to sustainable management of forests and income generation from non-wood forest products and medicinal aromatic plants (MAPs). The members of the WYPG collect chokeberries, wild tea and raspberries from forests and sell them fresh and processed. Their main concern was the small market in Strpce, which makes much more difficult for them to sell product and generate income throughout the year.
In Upper Lubinje, the Ambassador witnessed the great work that members from the WYPG is doing with production of strawberries and raspberries and of the collection of the NWFPs.
The delegation of the Embassy of Sweden also had the opportunity to see how the Association of the Private Owners in Kacanik has implemented some projects with the support of CNVP including preparation of the forest management plan for 29 hectares in the village of Llanishe. Other part of the visit was focused in seeing the wood biomass heating system in a school in Gorance of Hani i Elezit, which was promoted continuously by CNVP.
CNVP through SUNREED project will work to contribute in increasing incomes from sustainably managed private forests, in addressing issues related to climate change adaptation and biodiversity, developing forest product market systems, including wood biomass (wood chips), reduce greenhouse gas emissions. The project will also provide incentives for proper forest management and income generation for Private Forest Owners (PFOs).