News
Open call for a company to develop and implement award giving campaigns and event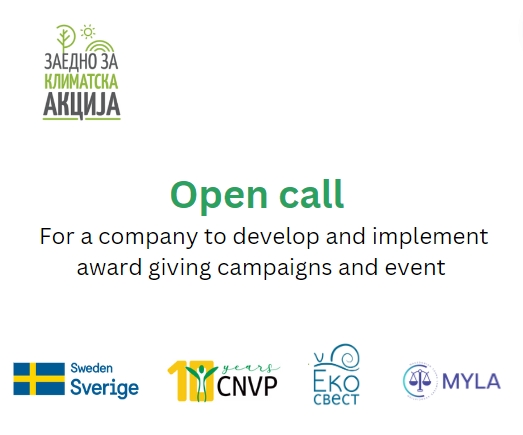 CNVP Macedonia office for the realization of the project "CSOs Action for Climate", financially supported by the government of Sweden, and implemented by Eco-svest, CNVP and the Macedonian Young Lawyers Association (MYLA), and based on the project communication strategy, announce an Open call for a company to develop and implement two award giving public campaigns on topics related to climate change and climate crisis, and to organise One public event for civil society organizations/ fair.
Deadline for submitting questions is December 12, 2022, at kristina.buzaroska@cnvp-eu.org and evgenija.krstevska@cnvp-eu.org in CC.
Application deadline: December 19, 2022, at 15.00h.
More information regarding the Open Call can be found at: Terms of Reference (TOR) and Guide for Application