News
Open call for hiring 3 national consultants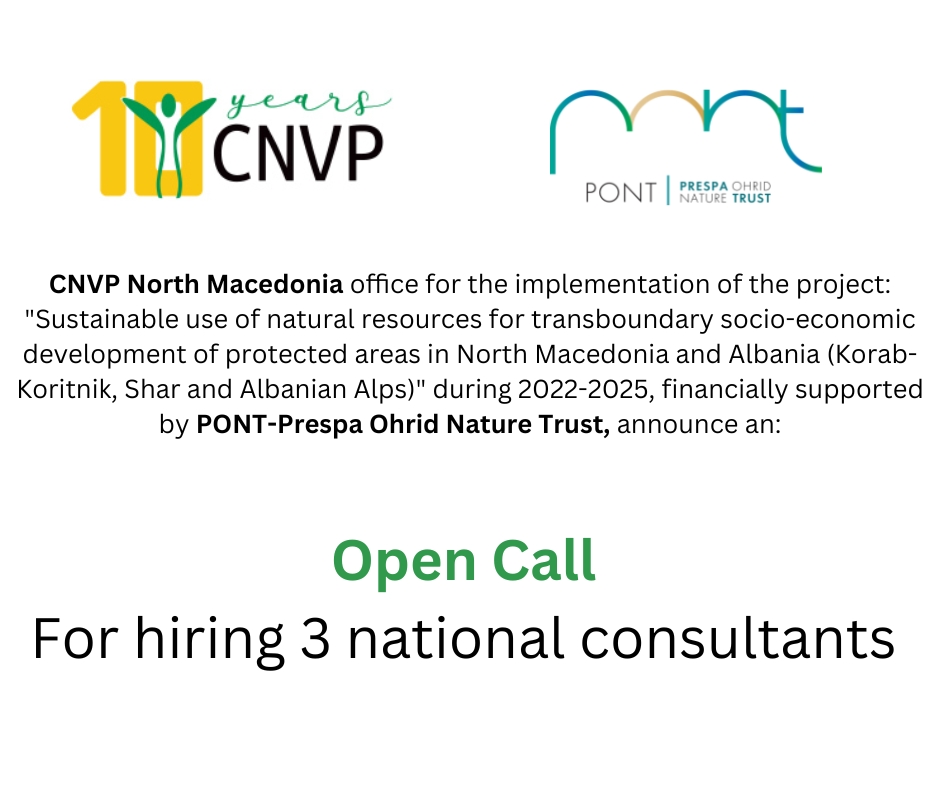 CNVP North Macedonia office for the implementation of the project: "Sustainable use of natural resources for transboundary socio-economic development of protected areas in North Macedonia and Albania (Korab-Koritnik, Shar and Albanian Alps)" during 2022-2025, financially supported by PONT-Prespa Ohrid Nature Trust, announce an Open Call for Consulting Services for selecting three (3) national consultants for conducting:
Assessment of the Impacts of Nature-Based Tourism and Collection of Non-Timber Forest Products on the Conservation Status of Ecosystems, Habitats, and Species in Mavrovo and Shar Mountain National Parks;
Inventory of NTFPs in Shar Mountain and Mavrovo National Parks with high benefits and assessment of their potential for organic cultivation at a farm level; and
Identification and analysis of contribution of Nature-Based Tourism (NBT) to nature conservation and national community development in Mavrovo and Shar Mountain National Park.
We are looking forwards to receiving your CV, technical and financial offer (including proposals for the implementation and methodology of the requested services according to the ToRs), and information about your readiness during the given timeframe.
Interested candidates should apply in English by email with a subject line: National expert (indicating the consultancy service that you are applying to) by email evgenija.krstevska@cnvp-eu.org and nehat.ramadani@cnvp-eu.org by 16:00 CET on February 13, 2023.
Questions with regard to this Terms of Reference can be addressed until February 6, 2023 end of working hours.
Please note that only short-listed candidates will be contacted.
The ToRs are presented in: