News
Working with producer groups to promote local products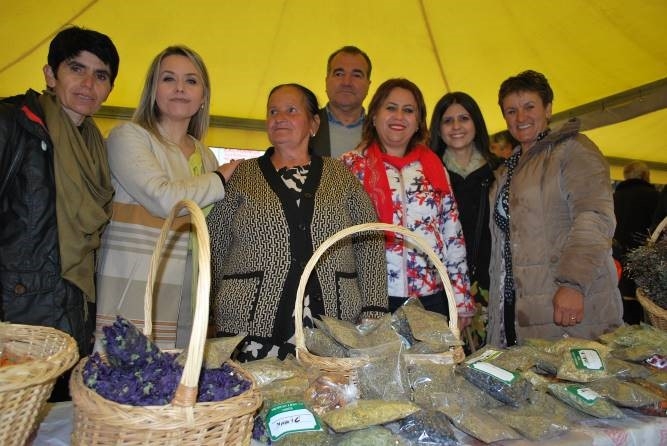 During 6-7 October CNVP organized a national workshop funded through the Forests for Local Economic Development (FLED) project that is supported by the Embassy of Sweden in Albania (Diber Municipality). The workshop aimed at strengthening non-timber forest product (NTFP) producer groups, promoting best practice, and learning from regional experience. The event was combined with Diber's annual harvest fair which has become a tradition of the Municipality over the last ten years.
Representatives from Diber included staff of the Municipality, the Directorate of Protected Areas, the forest management structure and Regional Federations. Women representatives from producer groups in Diber, Kukes, Shkoder, Lezha, Tirana and Elbasan also participated.
The workshop visited a NTFP collection point and discussed proper harvesting of aromatic and medicinal plants. A conclusion was that more needs to be done in terms of training on collection, harvesting, drying and NTPF product promotion/marketing, in order to support value chain development. Product certification is also important, particularly for chestnuts, hazel nuts and medicinal plants, as is diversification.
The Dibra Harvest Fair was organized in the framework of the Diber: Trails and Tradition (D2T) project financed by USAID and the Embassy of Sweden. It is being implemented by the Albanian Local Capacity Development Foundation (ALCDF) and CNVP Albania in collaboration with Diber Municipality, World Vision, Agritra-Vizion and the Directorate of Agriculture.
This year's celebration brought more than 10,000 visitors to the town, including tourists visiting the thermal baths. Visitors from Tirana and Macedonia had the opportunity to view and taste local products of more than 150 farmers, agro-processors, women's producer groups and handicrafts producers. These included Dibra apples, pears, dairy products, honey, nuts, brandy from forest fruits, medical/aromatic plants and handcrafts. Visitors enjoyed traditional music and dancing, as well as the performances of children's circus groups, martial arts and wrestling.
Agro-tourism is in demand from national and international tourists with a growing tendency to consume organic foods and emphasis on food quality and health. CNVP's support for D2T is focused on producer groups, women's product marketing related to tourism development, business to business brokering, and networking.