News
Forest governance at municipality level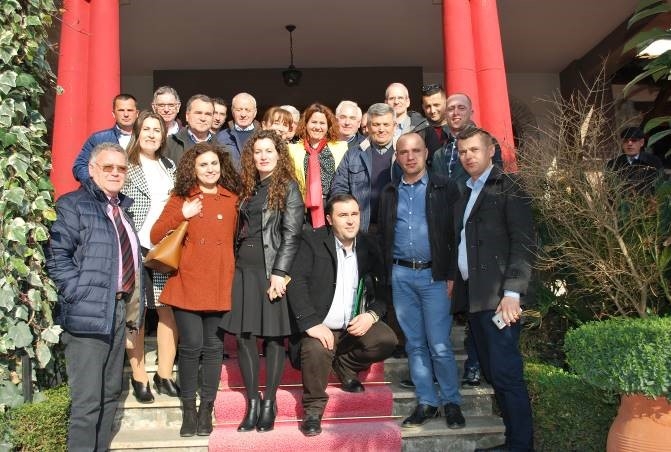 Forests and pastures in mountainous areas account for over 50% of Albania's land. They contribute to clean air and water, protect land, and produce wood and non-wood products, as well as provide valuable services for the environment and society. For centuries, wood has been used for economic purposes and heating, (providing over 80% of total energy requirements). Albanian forest cover has diminished over time.
Government has now transferred all forest and pastures areas to the ownership of municipalities, in order to improve the sustainable management of natural resources. The municipalities have been asked to appoint responsible technical staff, undertake budget planning for forests and pastures, and provide firewood for inhabitants. Many municipalities are now consolidating structures, and drafting annual plans for forests and pastures.
In this context, CNVP Albania, the Association for Local Autonomy (ALA), the National Federation of Communal Forests and Pastures of Albania (NFCFPA) and the Ministry of Environment held three consultative workshops during December 2016 - April 2017. Participants included mayors and representatives from all municipalities in Albania, as well as staff from the Forest Inspectorate, the Protected Areas Administration and the Forest User Associations.
The objectives of the workshops were to: support municipalities to improve sustainable forest management; identify legal gaps and obstacles, as well as challenges and opportunities, faced by municipalities as owners of the forests and pastures; share experiences and promote good management practices; as well as promote the participation of local stakeholders in forest management.
Urgent issues to be resolved identified by participants were as follows:
Many decisions and responsibilities, with the exception of monitoring and policing functions, remain with the Ministry of Environment and prevent municipalities from taking decisions concerning management of their forests.
The transfer of responsibility for forests and pastures to municipalities has not been accompanied by the transfer of staff, offices, vehicles, funds, documentation etc.
The existing legal framework and bylaws do not give a clear role to municipalities to implement forest and pastures management.
The current forest law does not recognize the rights and roles of stakeholders, especially the rights of traditional users and local communities.
The experience over 20 years of communal forestry has highlighted the role that families play in maintaining and managing forests in a sustainable way; rural families need to become legal users/owners of the forests.
The forest moratorium and the transfers of forests to municipalities without appropriate management plans have become an obstacle to fulfilling the firewood needs of the local population and public institutions.
There has been little investments in forests. Funds transferred from the Ministry of Finance to municipalities for forest and pasture improvement have been insufficient to employ technical staff, as well as invest in necessary infrastructure e.g. fire protection etc.
The community needs for firewood are larger than the possibilities offered by forests, so that government and municipalities have to look for other sources of energy.
Often, there is a lack of cooperation between Municipalities, Protected Areas Administration, State Environmental Inspectorates and the Associations.
Many forests and pastures areas have been transferred to protected area status without consultation with local stakeholders.
Urgent proposals by the participants were as follows:
Draft new laws on forests and pastures with clear roles and responsibilities for all stakeholders (Ministry, Municipalities, Inspectorate, Protected Areas Administration and local communities represented by Users Associations); government must overcome obstacles to firewood supply and the lack of management plans.
Draft a new strategy for forest and pasture development to reflect the new reality of the need for forest privatization.
Analyse at national level the need for firewood and opportunities for using alternative resources, including wood biomass.
Encourage the import of firewood to meet the needs of the population and public institutions.
Create the possibility for intervening in protected areas with improvement works to meet the needs of local communities.
The Ministry of Environment based on new legal acts has to review and update all regulations, guidelines and manuals related to forest and pastures administration and management.
The Ministry of Environment and municipalities have to plan training programmes related to the newly established structures for forest and pasture management.
Government, municipalities and other agencies should support planting of fast growing species by farmers and associations as an option to reduce the firewood deficit, including support for th collection and cultivation of medicinal and aromatic herbs as an option for increasing rural incomes and protecting against soil erosion.
Municipalities, even in the condition of the moratorium, have to use all legal and funding possibilities for generating income, preparing management plans, and providing staffing, fire prevention and other interventions.
Municipalities and the Ministry of Environment have to review the existing boundaries of protected areas and municipal forests in parallel with the property registration process,
The workshops were organized under the auspices of Forest for Local Economic Development, a Western Balkans Environment and Development Cooperation Project funded by the Embassy of Sweden in Tirana and implemented by CNVP Albania.