Past
Diber Trails & Tradition (D2T)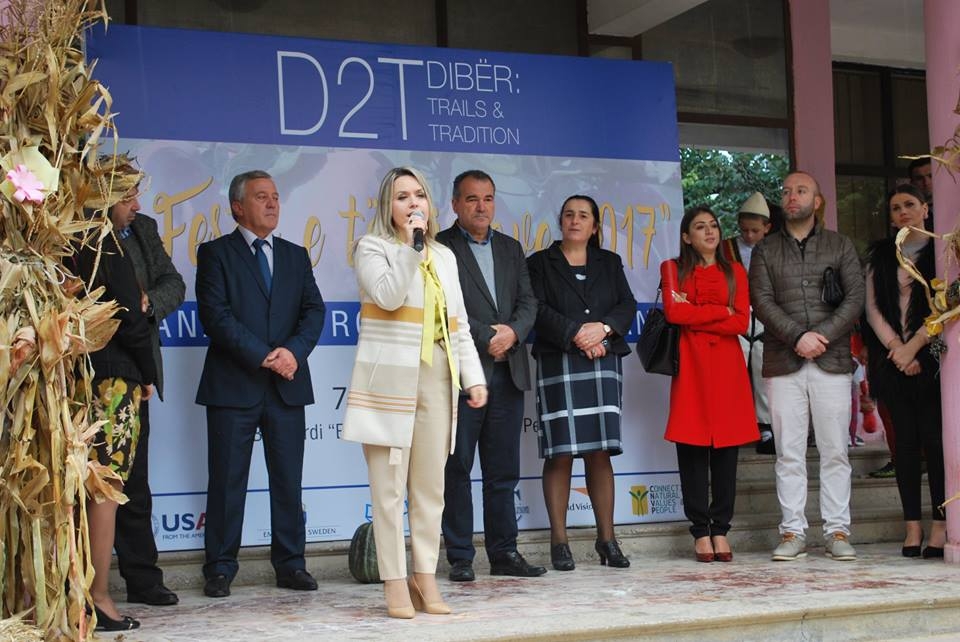 USAID and Sweden are funding a three-year, US$1 million project - Diber Trails & Tradition (D2T) - that will advance a sustainable integrated tourism sector in the Municipality of Diber by developing eco-friendly, natural, cultural and agri-tourism.
The innovative D2T project is being implemented by the Albanian Local Capacity Development Foundation (ALCDF) and CNVP. The project is being implemented in close partnership with the Municipality of Diber and the local action group, Dibra Turistike.
CNVP's role is to strengthen the enabling environment, provide technical support on building Business-to-Business (B2B) activities, support guest houses training and coaching, and develop producer groups that serve tourism development.
Beautiful Diber is surrounded by Deshat-Korab and Lure-Selishtë mountain ranges. With 21 glacial lakes, two national parks and its well-known thermal baths, Diber has high potential to support a vibrant tourism industry. However, the area's weak infrastructure and poor road access, plus limited private sector engagement, means that high levels of poverty and unemployment persist.
D2T is seeking to: increase employment, particularly among youth and women; increase incomes of the Diber families that are involved in the tourism supply chain; and promote sustainable tourism enterprises in communities in northern Albania.
D2T aims to increase the number of tourists to Diber and improve the quality of their tourism experiences. Through partnerships with businesses and local government, the project will: develop and market eco-friendly, natural, cultural and agro-tourism attractions, such as hiking and biking trails; improve traditional guesthouses and villages; introduce self-sustaining energy and waste management systems; improve infrastructure; and train local tour guides.
D2T is focused on three main programme areas:
Enabling environment
Working in close partnership with the Municipality of Diber, the project will support improved governance, planning and public services, foster private sector opportunities, partnerships and networks, and improve the marketing and ICT infrastructure in relation to tourism development.
Workforce Capacities
The project will increase awareness of the tourism model, improve the quality and technical skills of producers and suppliers of products and services, and create an internship programme that is targeted on youth and volunteers.
Product development
The project will design, develop and promote integrated specialized products using evidence-based tools and participatory approaches, in order to assure ownership and serve as models for the future.
The expected results of D2T are to:
establish a self-governing, cross-sectoral institution (Forumi Dibra Turistike) which will effectively plan, coordinate and promote tourism in Diber;
develop a Tourism Action Plan (TAP) for Diber Municipality through a participatory process with attention to tradition, natural assets, agriculture, sustainability, gender and environmental compliance;
improve the operation of a Tourist Information Centre (TIC) via the formation of a public-private partnership (PPP), as well as increase staff capacities for the management and operation of the TIC, including quality customer service and market information;
create B2B linkages and partnerships among and between tourist agencies and agriculture and handicraft producers;
build a sustainable marketing plan with an ICT web/social media platform to promote and support tourism in Diber;
train a qualified group of people to provide quality tour guide services;
develop vocational training, formal internships and volunteer placements for local youth;
identify and develop 5 "day-trip" itineraries;
identify 5 thematic trails, including the marking of roads, village signage, the production of hiking/biking/caravan maps, and the preparation of informational booklets; and
establish two traditional touristic model villages.
The old Albanian saying "a good start is half the work" is reflected in the fact that a successful D2T opening event was held in Peshkopi on Monday, 17 July 2017, involving more than 80 participants from different institutions, business operations, local associations, farmers etc., during which D2T's aim, objectives and expected results were outlined. Held in the Cultural Palace in Diber Municipality, the event was attended by Rob Camillari, the Deputy Director of USAID's Technical Support Office for Europe, the Mayor of Peshkopi, Mr. Muharrem Rama, Lindita Manga, the Executive Director of ALCDF, and Mr. Ross Bull, the Executive Director of CNVP, all of whom expressed their commitment to successful project implementation. ALCDF and CNVP believe the project will be a success, and hope to expand the D2T concept into other geographical areas of Albania.